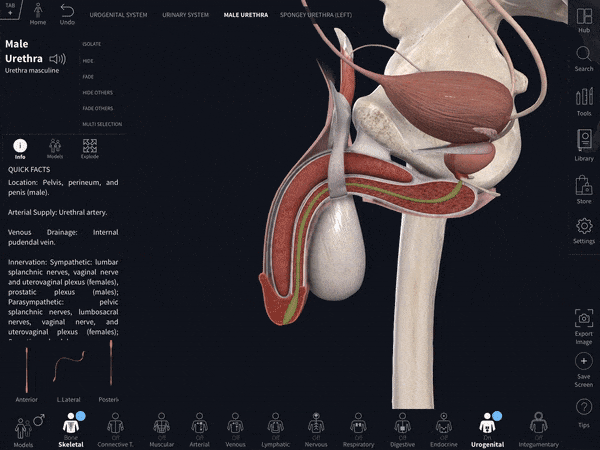 Our groundbreaking female model release includes a function that allows you to easily switch between the male and female models and compare the anatomy between them.
To see how easy it is to compare the male and female models in Complete Anatomy, let's examine one of the key differences in the urogenital system, specifically the difference in the male urinary tract compared to the females.
Step 1: Set up your model view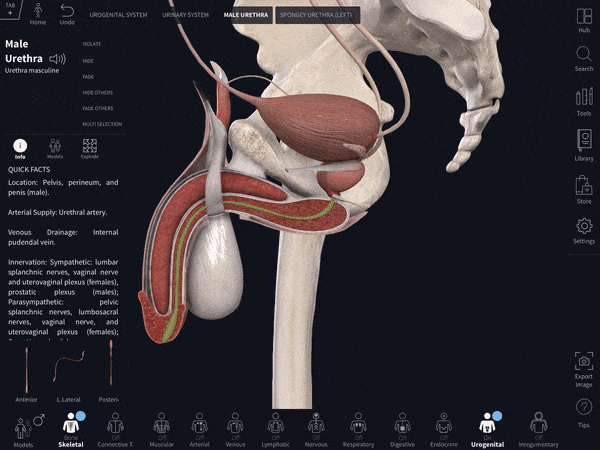 Set up your screen in the orientation you would like to view. In this case we are starting with the male gross model. We are focusing on the urinary system, so we turn on the urogenital system along with the skeletal system for context. Since we want to follow the path of the urethra, we can hide one half of the model to get a better view.
Step 2: Long-press on the Models button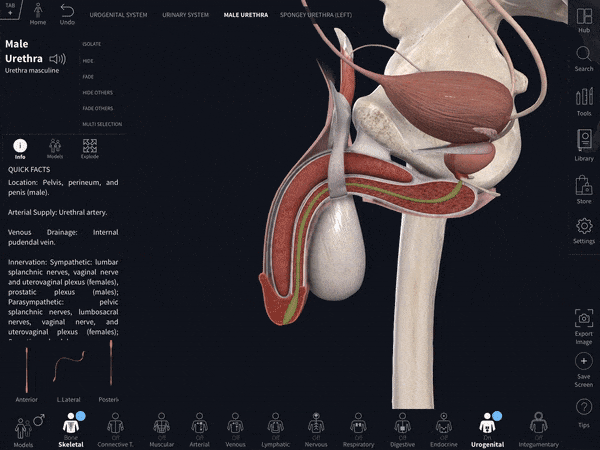 This is where the magic happens! From here we then go down to the bottom left-hand corner where we see the Models button. From here simply click and hold down (desktop devices) or long-press (touchscreen devices) on this icon and the screen will then switch to the female model, all the while keeping the model in the same position and frame. This way we get a better appreciation of how much shorter the female urethra is. We can also see that the male urethra has three main parts: prostatic, membranous, and penile. To switch back to the female model, simply repeat the action.
Key differences such as these stem from embryological differences in development. Being able to toggle between models throughout the body can help provide an understanding to the many similarities and differences seen between both models right down to details such as bone texture.
Now it's your turn! Open Complete Anatomy today to learn female and male anatomy in a totally new way.
Male and female anatomy. Every difference. Every detail.