Explore a suite of radiology images and correlate their structures to the 3D model as part of your Complete Anatomy subscription. Let's dive in to find out more!
To start, select the RADIOLOGY button from the Hub. From here, you can browse our full selection of radiology images. See images related to specific imaging types using the Filters panel. Choose from MRI, CT, Angiography, Radiography and Mammograms. You can also filter by body region and anatomical plane.
Select an image or sequence to get going. Don't hesitate to dive right in and choose an image — the Sequence Bar at the bottom of the screen makes it easy to move about to other images within the sequence.
There are 3 ways you can correlate a structure in the image.
Select a pin on the image
Select a name on the list
Select it on the 3D model
Interact and discover in the way that best suits your learning.
Turn your focus to structures related to specific body systems by using the Systems Tray on the Sequence Component.
If you want to examine the image in greater detail, you can always enter an expanded view, and zoom right into areas of importance.
Really test yourself by collapsing the list to the focused view, and then try to name pinned structures before selecting them to reveal the name. Alternatively, remove pins altogether to simulate a real exam situation.
Return to the sequence screen at any time by hitting the Close button on the top-right. Navigate back to the library of images by selecting the back button.
---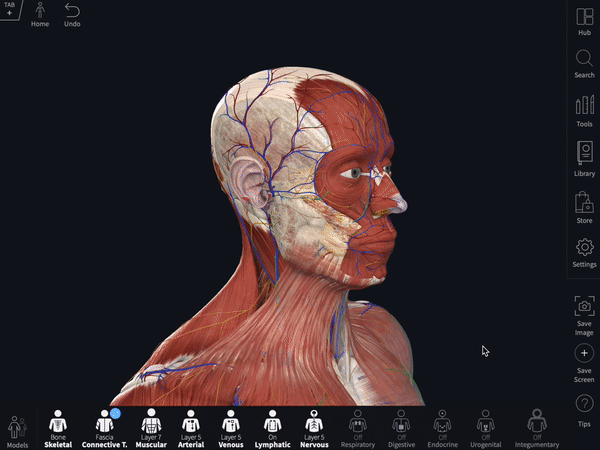 Pssst! Check out more tips videos like this in Complete Anatomy and turbocharge your study today!