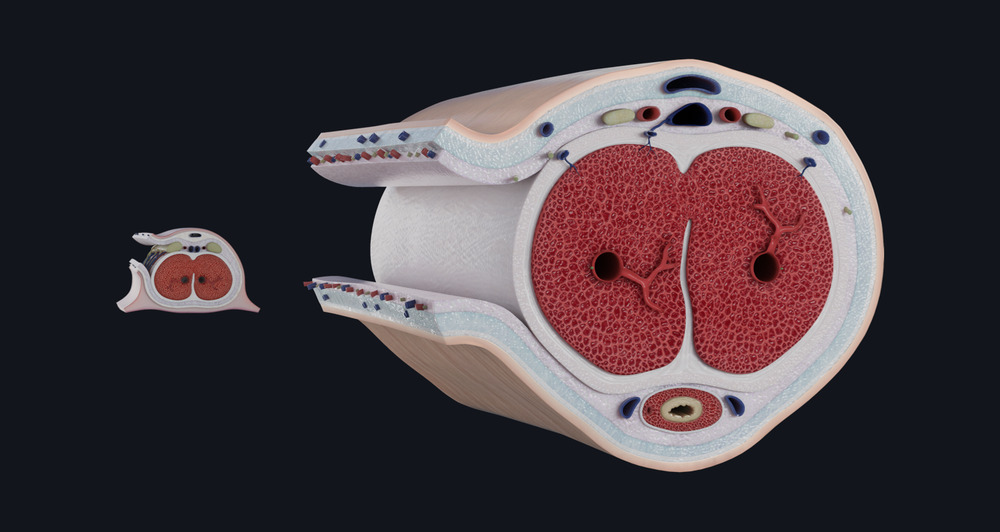 The reproductive system is comprised of internal and external sex organs that facilitate sexual reproduction. Embryologically, both female and male external genitalia have the same origin. It is through genetic and hormonal influences that either male or female organs develop. With our new Clitoris and Penis cross-section model you can compare the similarities in structures as well as the differences.  
Taking a closer look at this development, the external genitalia develop in a fetus around the third week. Cloacal folds are formed by mesenchymal cells from the primitive streak migrating to the cloacal membrane. These folds will fuse to form the genital tubercle. Below they will divide into the urethral folds and anal folds. On either side of the urethral folds, genital swellings will form. The development of the external genitalia will then enter the indifferent stage, where neither male or female characteristics are apparent. On the 7th week sexual differentiation will start to take place.
In order to develop into male external genitalia, the hormone dihydrotestosterone (DHT) will be present. This causes a rapid elongation of the genital tubercle. The tubercle will become the phallus or penis. The urethral folds are pulled to form the urethral groove. These folds will close over by the 4th month of gestation to form the penile urethra. The genital swellings will eventually become the scrotal swellings and thus form the scrotum.
On the flip side, oestrogen facilitates the development of female external genitalia. This causes the genital tubercle to elongate long enough to form the clitoris. The urethral folds and genital swellings do not fuse. Instead, the labia minora and labia majora are formed. This means the urogenital groove remains open, creating the space known as the vestibule, where the urethra and vagina open.
In our new detailed model you can see some of the shared structures between the penis and clitoris such as the corpus cavernosa, tunica albuginea, and neurovasculature. Although these organs start off from the same place, they differentiate distinctly, giving us our two different male/female reproductive systems.
The Penis & Clitoris Cross-Section Model is arriving on the platform in December as part of our groundbreaking female model release. Be sure to stay tuned for more previews and download the latest update from your app store when it lands.